Answering a Call for IV Therapy Stabilization, Protection for Adult Patients
May. 1, 2020
Nurses told us special considerations must be made when placing an IV catheter in adult and geriatric patients. In one study of adult patients, more than half described IV insertion as painful. Geriatric patients are more prone to skin irritation, skin tears, bruising, and swelling. In addition, older adults with weakened immune systems are at a higher risk for infections. Extending dwell times can improve patient safety and comfort. I.V. House offers two product lines specifically geared to adult patients.
The TLC Splint is available for the wrist and elbow for adult patients. Although not ideal, in an emergency situation nurses sometimes use the antecubital space (AC). When this choice is made, the TLC Elbow Splint will hold the arm in a comfortable position while stabilizing the area of flexion. This revolutionary armboard provides increased visibility to the extremity. See-through openings on the underside of the splint allow nurses to visually and manually assess the extremity to check for early warning signs of complications, such as changes in temperature, color, or swelling. The TLC Wrist Splint and TLC Elbow Splint with straps are secured with Velcro® closures for ease of application.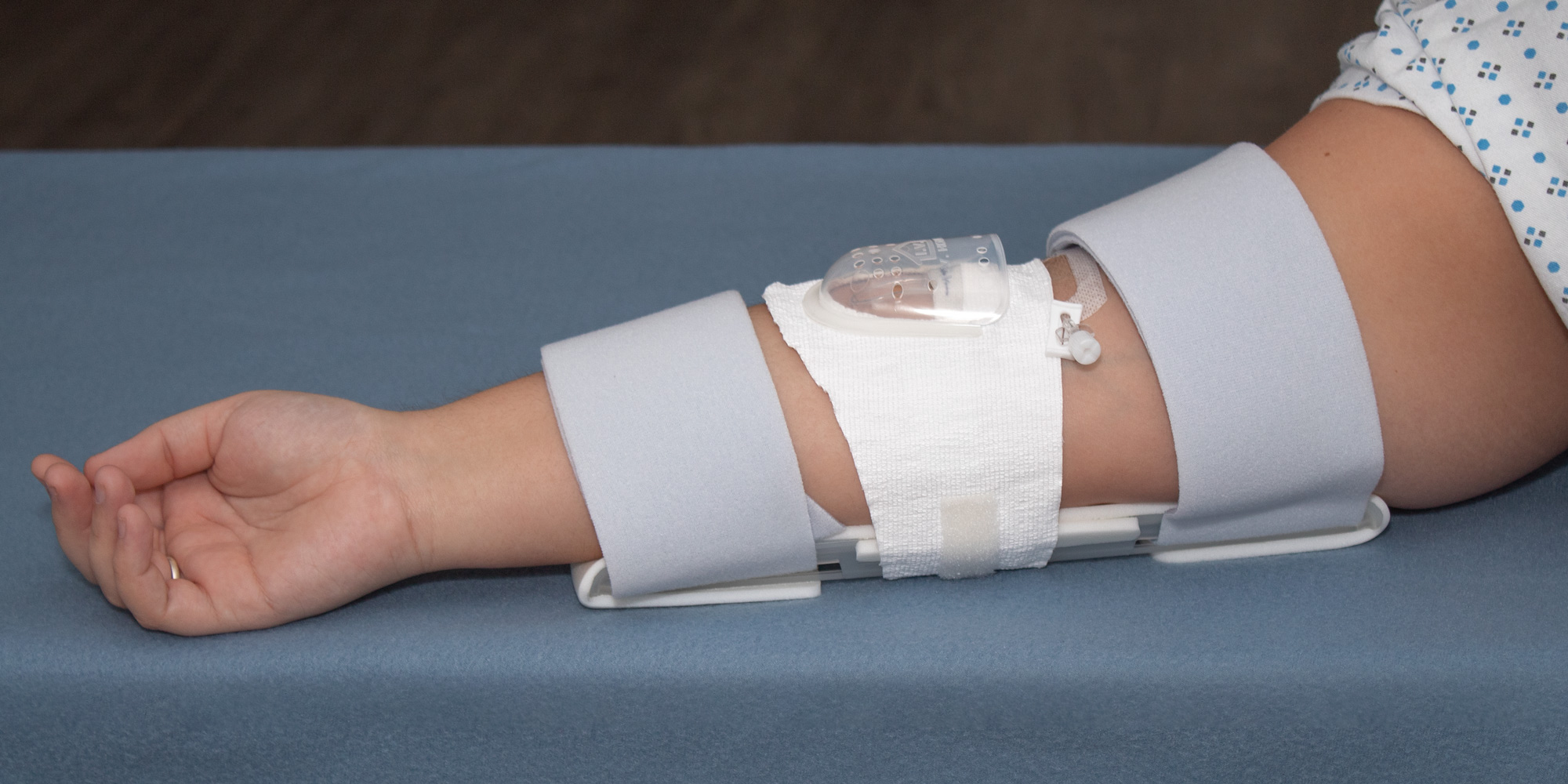 The award-winning I.V. House UltraDressing is an innovative IV insertion site protection device designed to reduce the need for over-taping fragile skin. The device has a fabric strap with adjustable Velcro® closure that can be re-attached to allow for easy IV insertion site assessment. Protecting the IV insertion site with an I.V. House UltraDressing helps reduce 'picking' and 'twiddling' interference, which is especially beneficial for patients with cognitive deficits such as Alzheimer's Disease and dementia. The I.V. House UltraDressing is suitable for various IV insertion sites including the hand, forearm, elbow, or upper arm.
Learn more on our Adult and Geriatric Patient page.
If you are ready to see for yourself, request product samples here.