Fewer Complications & Lower Material Costs Make A Big Impact
Apr. 13, 2022
We know that placement of a peripheral IV device is one of the most common invasive procedures1 performed in a hospital setting, with estimates between 70% to 90% of patients requiring IV therapy.2
Material Cost Implications
IV therapy complications cause pain and distress for patients and often result in extended hospital stays. A recent report showed that annual peripheral intravenous catheter (PIVC) sales exceed 350 million in the United States. Around 37 million patients are hospitalized in the U.S. each year, meaning hospitals use an average of 10 PIVCs per patient admission, indicating high failure rates and increased costs.3
In addition, the financial cost for premature PIVC removal is conservatively estimated at $1.5 billion annually in the U.S.4 Patients with PIVC failure have prolonged, more expensive hospitalizations averaging two additional days of hospitalization at the cost of over $3,000.5
Hospitals using I.V. House products, including the TLC® Splint, I.V. House UltraDome®, or I.V. House UltraDressing®, report up to a 20% reduction in IV therapy complications, including moderate to severe infiltrates. In addition, I.V. House products are less expensive than other immobilization devices that obscure the IV insertion site and surrounding tissue making visual and manual assessment more difficult.
Average = 61% reduction in costs

Typical Immobilizer

Price Range*

I.V. House Joint Stabilization
and IV Insertion Site Protection

Price Range

Savings

Immobilizer Elbow Peds Extra Small

$19–$25

XS (Newborn) Elbow Splint and
727SFP UltraDome

< $10

55%

Immobilizer Elbow Peds Small

$19–$25

Small (Infant) Elbow Splint and
750LFP UltraDome

< $10

67%

Immobilizer Elbow Peds Med

$22–$32.50

Medium (Toddler) Elbow Splint and
750LFP UltraDome

< $10

57%

Immobilizer Elbow Md/Lg

$25–$38

Large (Child) Elbow Splint and
750LFP UltraDome

< $10

63%
Cost Per IV Catheter Stick
The average cost of a short peripheral IV catheter insertion in the United States is between $28 and $35 for straightforward "first stick" insertions. Unfortunately, the failure of one peripheral IV catheter initiates a damaging and costly cycle of catheter removal and reinsertion, with each restart costing $69 on average. A recent report indicates the cost of accidental dislodgment could be more than $266 million annually.6 Hospitals could realize significant savings in equipment and staff time if even a small number of dislodgments could be reduced through effective securement.
Impact of Secondary Securement
In one study, kits that included a transparent dressing, catheter stabilization device, and the I.V. House UltraDome, dwell time increased from 38.2 hours to 62 hours, and infiltrations dropped by approximately 30%.7 Nurses reported the kits were easy to use and increased visibility of the IV insertion site to improve access for hourly assessments. In addition to reducing patient harm, study organizers said the hospital would see cost savings in equipment and nurse time due to increased dwell times.
The Benefit of I.V. Therapy Joint Stabilization
Recently, a large pediatric hospital used a maintenance bundle that included the TLC Splint. Peer-to-peer rounding with IV team nurses and unit nurses resulted in 90 less moderate to severe infiltrates when compared to the previous year,8 exceeding the 20% reduction goal.
Combined Interventions
A large children's hospital in the Northeast saw a dramatic reduction in mild, moderate, and severe infiltrates in the first year of introducing the TLC Splint and I.V. House UltraDome® into their IV therapy practice. The hospital determined the decrease in peripheral IV infiltration and extravasation (PIVIE) events supports the continued use of the products.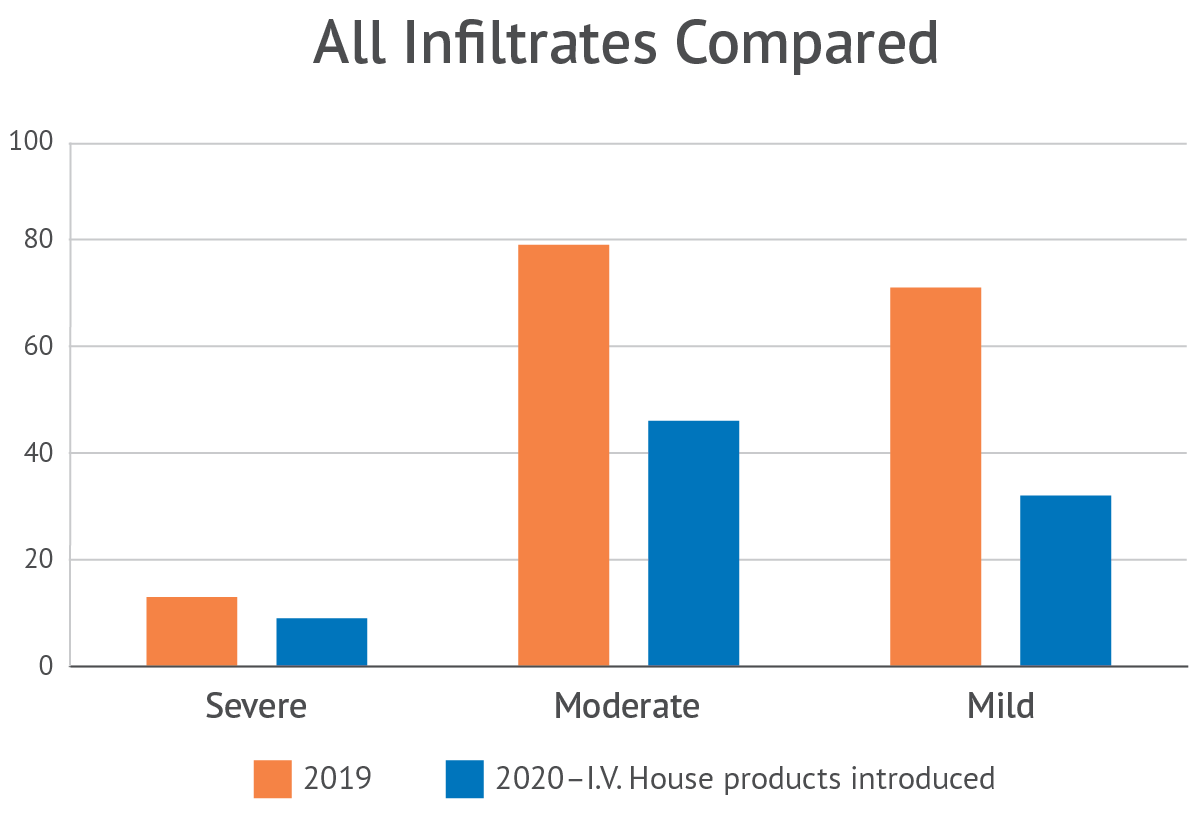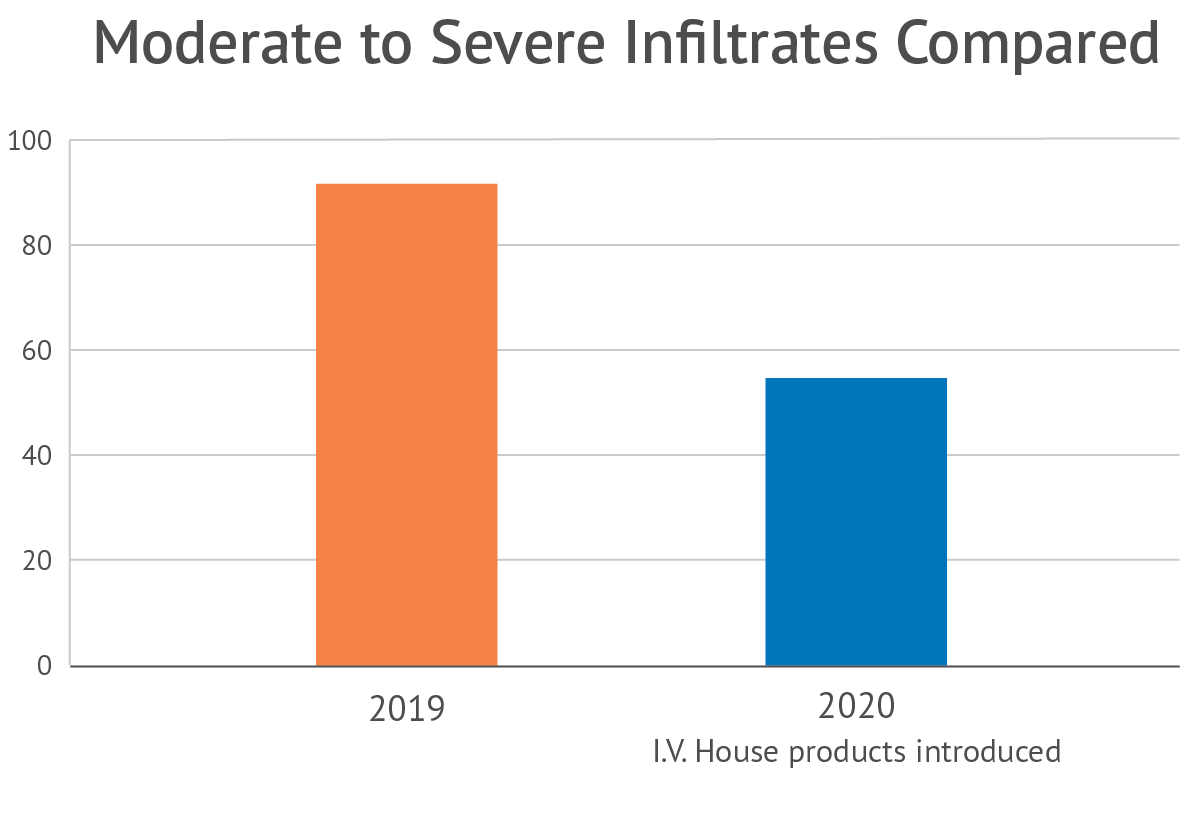 Conclusion
From a cost perspective, hospitals should consider the following when addressing their IV therapy practices:
The initial cost for secondary securement and joint stabilization products
The effectiveness in preventing patient harm
To learn more about how I.V. House products may help reduce costs, increase nurse efficiency, and improve patient outcomes, please get in touch with us.
---
Bernatchez S, Care of Peripheral Venous Catheter Sites: Advantages of Transparent Film Dressings Over Tape and Gauze, JAVA, 2014; Vol 19, No. 4:256-61
Jones R, Short Peripheral Catheter Quality and Economics. (2018). Journal of Infusion Nursing, 2018 November/December; 41 (6),: 365-71
Steere L et al., Reaching One Peripheral Intravenous Catheter (PIVC) Per Patient Visit With Lean Multimodal Strategy: the PIV5Rights™ Bundle. Journal of the Association for Vascular Access, 2019;24 (3): 31–43 (ALSO U) https://meridian.allenpress.com/java/article/24/3/31/436378/Reaching-On… accessed 03.06.2022
Keleekai N et al., Improving Nurses' Peripheral Intravenous Catheter Insertion Knowledge, Confidence, and Skills Using a Simulation-Based Blended Learning Program: A Randomized Trial. Simulation in Healthcare, 2016, Dec, 14. https://www.ncbi.nlm.nih.gov/pmc/articles/PMC5345884/ accessed 03.06.2022
Sangtaeck L et al., Increased Clinical and Economic Burden Associated With Peripheral Intravenous Catheter–Related Complications: Analysis of a US Hospital Discharge Database. INQUIRY: The Journal of Healthcare Organization, Provision, and Financing, 2019.09.15 https://journals.sagepub.com/doi/10.1177/0046958019875562 accessed 03.06.2022
Moureau N, Impact and Safety Associated with Accidental Dislodgment of Vascular Access Devices: A Survey of Professions, Settings, and Devices. JAVA, 2018; Vol 23, No. 4:203-
Cook Children's Medical Center Poster, Fort Worth, Texas; sahred at the 2011 Society of Pediatric Nursing 41st Biennial Convention, October 29-November 2, 2011
Stelter A et al., Peer to Peer Rounding to Reduce the Number of Peripheral IV infiltrates and Extravasations. Children's Hospital of Wisconsin poster